Δε μας λυπάται καθόλου αυτή η CD Projekt! Ξεκίνησε τις γαργαλιστικές προσφορές με το που τελείωσαν οι γιορτές του Πάσχα και θα συνεχίσει για τέσσερις ακόμη μέρες!
Η εκπτωτική περίοδος άνοιξε στο GOG.com στις 13 Απριλίου και θα ολοκληρωθεί στις 19 του μήνα. Η πλατφόρμα της πολωνικής εταιρείας προσφέρει σε ιδιαίτερα χαμηλές τιμές ολόκληρες σειρές ή πακέτα παιχνιδιών με κάποιο κοινό χαρακτηριστικό. Κάθε μέρα προστίθενται δύο νέα bundles, αλλά δεν αποσύρονται και όλα όσα προηγήθηκαν και έτσι έχει χτιστεί στην αρχική σελίδα του site ένας πύργος. Έτσι δικαιολογείται και το όνομα του Promo. Μιλάμε για εκπτώσεις της τάξεως του 70 με 85%.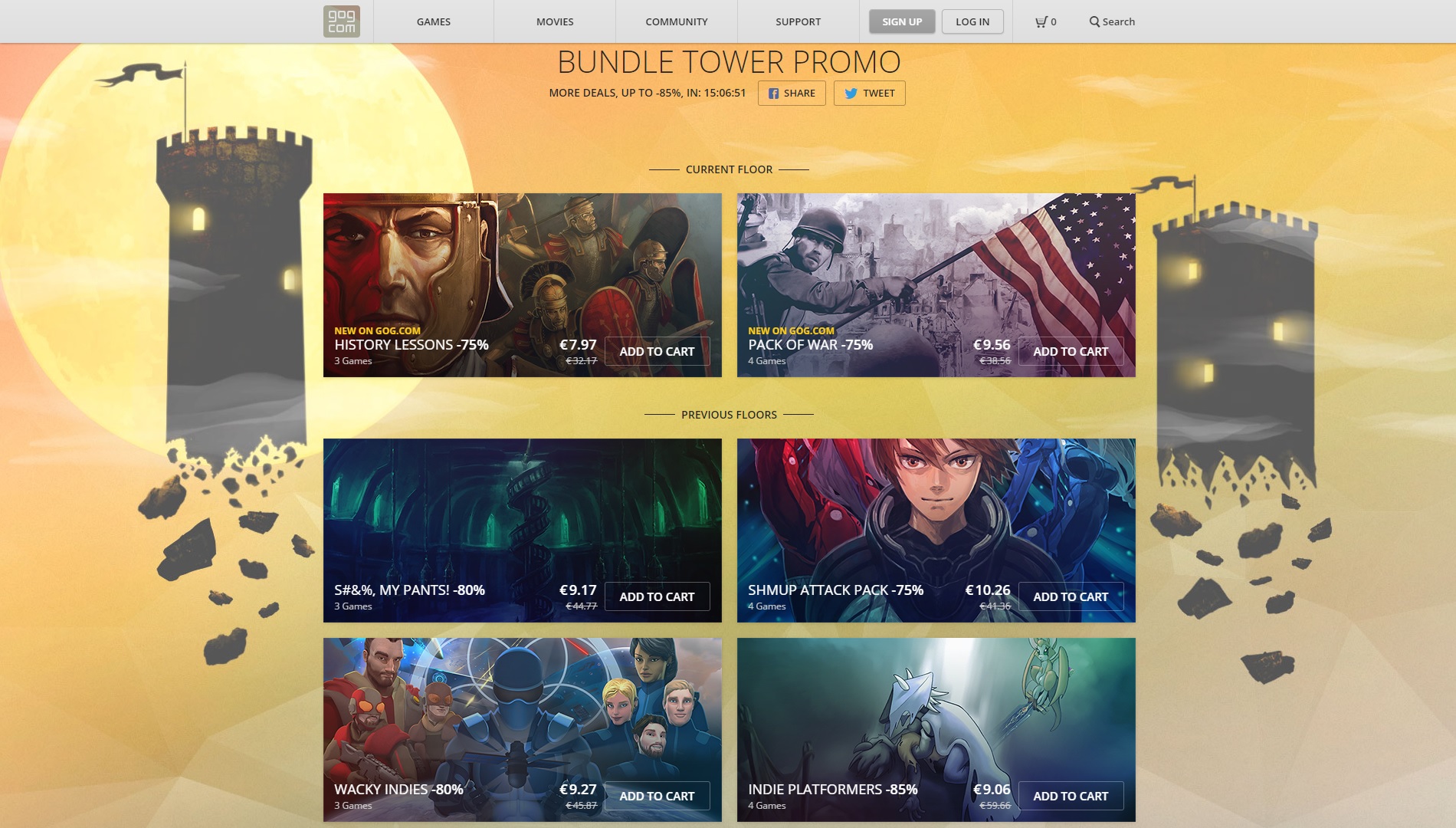 Τα bundles και το περιεχόμενό τους, που βρίσκονται προς το παρόν στη διάθεσή σας, είναι τα εξής:
Broken Sword Saga 12,25€
Broken Sword: Director's Cut, Broken Sword 2: Remastered, Broken Sword 3: The Sleeping Dragon, Broken Sword 4: The Angel of Death και Broken Sword 5: The Serpent's Curse.
Lucasfilm Adventures 6,17€
Indiana Jones and the Fate of Atlantis, The Secret of Monkey Island: Special Edition και Sam & Max Hit the Road.
Divinity Trilogy 5,87€
Divine Divinity, Beyond Divinity και Divinity 2: Developer's Cut.
Hasbro D&D Immortals 19,90€
Planescape: Torment, Neverwinter Nights Diamond, Neverwinter Nights 2 Complete, Baldur's Gate: The Original Saga, Baldur's Gate 2 Complete, Icewind Dale Complete, The Temple of Elemental Evil, Dungeons & Dragons: Dragonshard και Forgotten Realms: Demon Stone.
Indie Platformers 9,06€
Dust: An Elysian Tail, Spelunky, Trine Enchanted Edition και Trine 2: Complete Story.
Wacky Indies 9,27€
Consortium: Master Edition, Stick It To the Man! και Sir, You Are Being Hunted.
SHMUP Attack Pack 10,26€
REVOLVER360 RE:ACTOR, Crimzon Clover: WORLD IGNITION, Raiden III Digital Edition και Astebreed.
S#&%, My Pants! 9,17€
Outlast, The Penumbra Collection και Amnesia: The Dark Descent.
Pack of War 9,56€
Faces of War, Men of War: Red Tide, Men of War: Assault Squad GOTY Edition και Men of War: Vietnam Special Edition.
History Lessons 7,97€
Europa Universalis II, Europa Universalis: Rome Gold και Heart of Iron II: Complete.
Καινούρια bundles θα προστεθούν στις τέσσερις μετά το μεσημέρι. Ο πύργος θα ψηλώσει κι άλλο με άλλα λόγια!